We have written countless articles about cyber security risks, but it has come to our attention that we have failed to address one of the biggest cyber threats for SMBs… their vendors. Before we jump into the threats, let's clarify what we mean by vendors.
Simply put, a vendor is a person or company that provides products or services to another company. They are also known as contractors, third parties, and suppliers.
According to excerpts from an article by Panorays, they wrote, "Third-party vendors in the digital world include cloud hosting providers, cloud-based/SaaS software solutions, business partners, suppliers, and agencies. Any person or business that accesses and processes a company's data is also considered a third-party vendor."
This can include the service providers, financial institutions, and accounting firms that individuals and businesses use. Usually, when we say "service providers," people think of electric companies, internet providers, or HVAC services.
Certainly, they are also vendors, but they aren't the biggest cyber security risk to your business. Why? Because the amount of data they store regarding your business is very limited.
It's imperative to make a list of EVERY vendor you do business with. It is often the vendors within your own community that pose the biggest threat. People or businesses that you've trusted for years. They are usually SMBs that think a cyber attack will never happen to them. But, if they don't have a multi-layered cyber security plan in place – including a backup and disaster recovery plan – a cyber attack WILL happen. It's just a matter of time.
So, ask yourself… Does your local bank, accounting firm, clinic, pharmacy, daycare center, etc. have a multilayered cyber security plan in place? If not, one single vendor could bring the entire business community to its knees.
Let's take a step back, and talk about other vendor-related cyber security risks…
The Cloud
It is mind-boggling to think about the countless Software as a Service (SaaS) providers SMBs use in their technology stack. To give you an idea of the basic cloud vendors an average SMB chooses from, take a look at Vidyard's infographics below…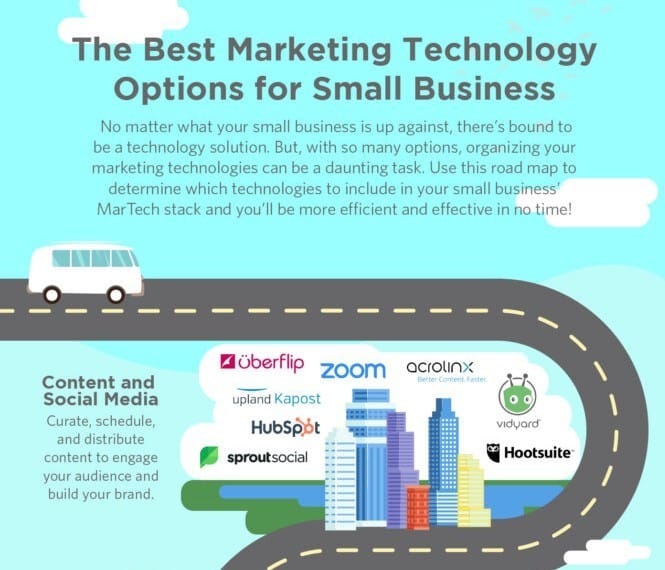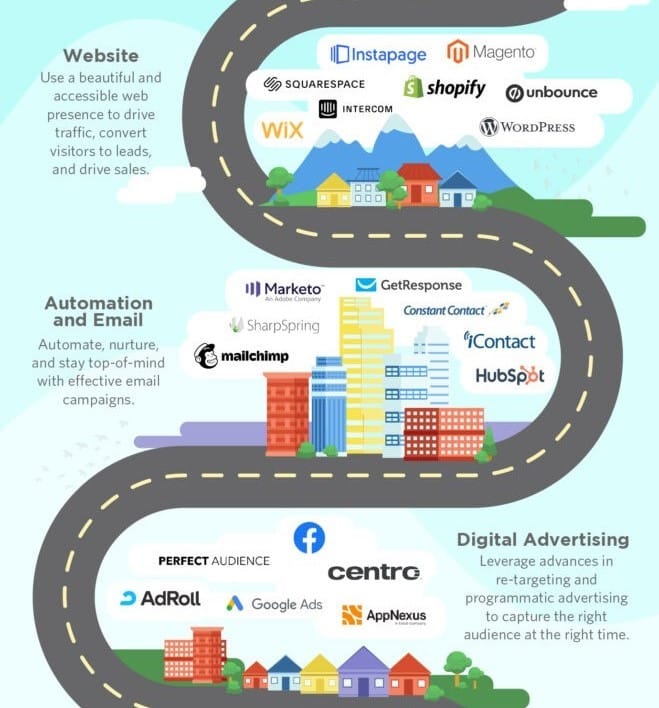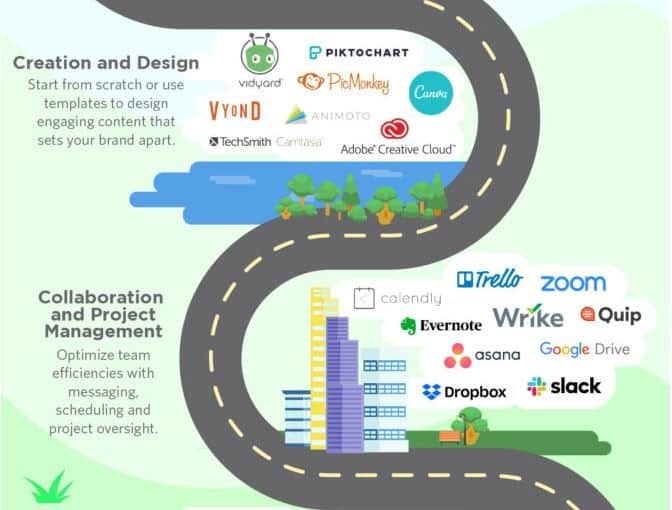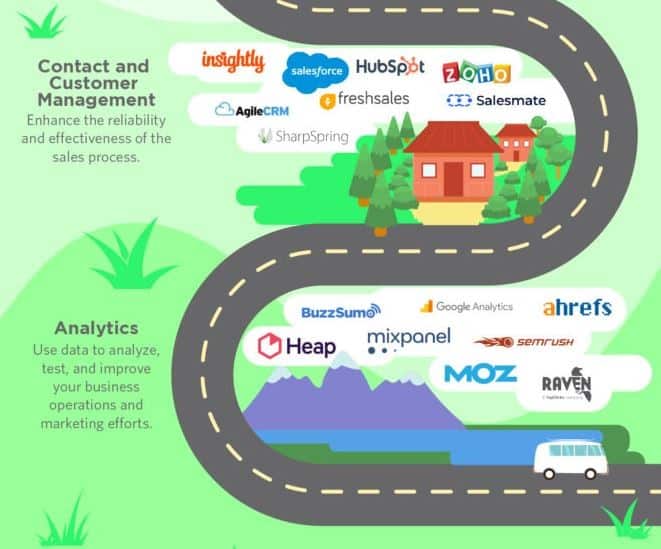 More mind-blowing is the fact that these are the basic SaaS tools that most SMBs begin with. If you were to look at the apps on your desktop, laptop, tablet, and phone you might be surprised to see how many apps you use. Let's not forget Google – not just the search engine, but everything google-related.
Now, take a moment to think about how much data these vendors store for your business.
Really, really think about it…
According to excerpts from an article by HelpNet Security, they wrote, "Your vendors are likely your biggest cybersecurity risk. With organizations expanding their vendor base, there is a critical need for holistic third-party risk management (TPRM) and comprehensive cybersecurity measures to assess how much risk vendors pose.
While organizations assess and manage risk on a multitude of layers, none present bigger threats to business resiliency than third-party risk and a lack of robust cybersecurity controls. Breaches and service interruptions tied to these risk areas have brought down critical systems of major organizations.
It bears repeating: Cybersecurity and third-party risk are the two biggest problems facing your long-term viability. Businesses need to be able to tackle these risk vectors individually to gain a complete view of their risk profile. A cross-functional process is essential to managing the overlap between these risk areas to better protect your organization and increase workflow efficiency.
Ensuring that the cybersecurity practices of your vendors align with your organization's standards is critical to safeguarding your systems and data. In fact, it is just as important as how stable the business is or how well it delivers products and services.
Common third-party cybersecurity risks
You need to be able to identify different facets of third-party risk. Here are a few of the most common third-party cybersecurity vulnerabilities and how you can work with your partners to mitigate them.
Data breaches: Ransomware, phishing, and direct attacks on a vendor or its systems threaten your data privacy. Additionally, poor organizational security at the vendor and inadequate enforcement of controls pose security risks to your company.
Service disruptions: Malware and distributed denial-of-service attacks may take down your vendor's systems and/or the service they provide for your IT infrastructure. Consequently, this can leave your systems exposed or your organization unable to deliver services to customers.
Compliance risk: Regulators increasingly implicate organizations and their vendors for cybersecurity compliance. Understand the regulations you need to comply with externally and ensure that vendors are compliant with the regulations that are relevant to them.
Businesses face constant threats, but mitigating risks takes more than a single arm of defense. Lacking an integrated cybersecurity and TPRM system can leave your organization ill-prepared to anticipate, mitigate, or recover from breaches.
Addressing cybersecurity with your third parties
A cross-functional approach to TPRM and cybersecurity reduces duplicative work and lends deeper insight into enterprise risk for your organization, your vendors, and your partners. Here are some actions to consider as you shore up your TPRM efforts:
1. Bridge the gap between TPRM and cybersecurity
The integration of cybersecurity and TPRM is essential for organizations to better understand and monitor regulatory requirements, controls, and internal policies and procedures. The organization should understand that cybersecurity priorities function to identify the regulatory standards and controls that vendors are held to in TPRM. Organizations that integrate these two approaches take the two functions out of a silo to reduce overlap in workflow processing, reporting, and, more importantly, risk decision-making.
The organization must understand what access the third party has to its systems, data, and infrastructure. Beyond that, work to ensure adequate and appropriate measures and controls are in place to safeguard those systems and entry points.
2. Perform in-depth due diligence
Once an organization has established a solid internal foundation for cybersecurity controls and metrics, it can begin the due diligence process for new and existing vendors. TPRM teams should collect the most relevant information possible to understand a vendor's inherent and residual cybersecurity risk, including their incident history and future-state outlook.
Prospective vendors should only be selected and onboarded if their cybersecurity practices align with your organization's policies, and they should be stratified based on the level of risk they pose to your organization. (***This process should include the "brick and mortar" companies you work with too, i.e. financial institutions, accounting firms, lawyers, etc.)
3. Practice ongoing monitoring
Point-in-time assessments are not sufficient for capturing a vendor's ever-evolving risk posture. It is essential to regularly assess the security of your vendor population by performing ongoing monitoring to understand and gain visibility into changes in their cybersecurity controls and status. Cybersecurity ratings done during initial due diligence can provide a drill-down score of your vendor's security, informing your assessment schedule. Determine an assessment scope and frequency based on the vendor's overall risk rating at an annual, biennial, or triennial time frame.
Organizations that understand and implement integrated cybersecurity and TPRM systems gain a complete view of their vendor's risk profile, comprehensively prepare for possible threats and compliance violations, and improve business results with trustworthy secure vendors."
The Risk Of Third-Party Vendors
There's no getting around using third-party vendors. Your business can't survive without them. But, there are some very basic things to consider when you're thinking about aligning with a new vendor.
According to the Panorays article we mentioned at the beginning of this article, they went on to say, "If your vendors fail to deliver, you'll fail to deliver. However, risk is inherent in any business relationship. Using third-party vendors comes with many risks, most of which can be mitigated.
The biggest risk is choosing a third-party relationship that doesn't align with your security standards. For instance, your network security team needs to follow security protocols that live up to your specific standards. If your company is bound by regulations such as HIPAA, you can't afford to hire a network security company that doesn't comply with HIPAA. You need a vendor that understands regulations and is willing to adapt to meet those regulations.
When you're bound by data privacy regulations, you need to know exactly what security standards are being implemented and if your vendors aren't on par with them, you must try to remediate that. Otherwise, you're exposing your company to cybersecurity risks such as a data breach.
Data breaches are extremely disruptive, especially when you're protecting personal information. Unfortunately, data breaches are on the rise and are more common than ever before. In 2021 alone, billions of records have been exposed.
Data breaches can cause disruptions to operations, devastating financial consequences, legal action, and a damaged reputation. To avoid these, you can't let your guard down when it comes to your own security or that of your vendors."
Vendor Cyber Risk – Where to Begin
According to an article by VenMinder, they wrote, "When deciding on a strategy to manage cybersecurity risk, it may be beneficial for the third-party risk management and information security teams to work together. Here are tips for managing vendor cyber risk:
Establish a list of your vendors who have access to your information or systems. It's impossible to manage what you don't know, so maintaining an up-to-date list of vendors is the first step.
Remember, cyber risk isn't one-size-fits-all. Categorize your vendors according to the sensitivity of the information and systems they have access to.
Establish levels of review and frequency of monitoring based on the amount and type of vendor risk. Consider the vendor's access to your information or systems, and the sensitivity of that information, which should determine the depth and occurrence of reviews.
Maintain ongoing monitoring to ensure you stay on top of evolving cyber risks. The threats and methods of attackers tend to change to overcome new defenses, so ongoing reviews are important to verify your vendors are prepared for emerging threats.
Establish a list of fourth parties, also known as your vendor's vendors, that process or have access to your data or systems.
Here are 3 reasons why:
It's increasingly common for companies to outsource parts of their processes. As the list of entities that have access to your information increases, so does your risk.
It helps to ensure that your vendors take this critical step of monitoring their own vendors.
If the sensitivity of the data or the access to your systems and infrastructure is high, then it may make sense that you verify the cybersecurity measures in place for fourth-party vendors."
Vendor Risk Management Best Practices
In addition to implementing a vendor risk management process, you need to know the best practices and implement them to get the most out of your vendor risk management program.
According to Vendr, they wrote, "Here are five vendor risk management best practices to keep in mind.
1. Don't focus all your efforts on just your top vendors
Some organizations follow the Pareto principle to the tee and only focus on SaaS vendors who take up 80% of their spend. While it is good to focus on areas where the disruption will leave a severe impact, it is imperative to consider all active vendors.
Also, don't let past vendor relationships misguide you. Although long-term vendor relationships have a comparatively lower risk, they are not completely risk-free. Over the years, people at your vendor organization's helm may change and so will their strategy. If that is the case, you never know when one of their internal strategies may increase your risk. For instance, your vendor's new outsourcing strategy can result in a compliance risk for you if the fourth-party risk is not considered.
2. Make risk assessment a recurring exercise
Don't treat vendor risk assessment as a one-time exercise. While it is great to assess your SaaS vendor's capability in the onboarding process with a SaaS security checklist, you need to make it a practice to evaluate vendors at regular intervals. You never know when your vendor may get into financial trouble or labor disputes. When your vendor monitoring program operates at a regular frequency, you will be prepared for the worst.
3. Keep a close eye on your suppliers
Every employee will be focused on doing what's in their company's best interest, so you cannot rely on your point of contact to share potential risks with you candidly. Sometimes, your point of contact may not be aware of significant operational risks themselves. So, keep an eye on your vendors using multiple avenues like Google Alerts, social media handles, and more.
4. Have a backup plan in place
You never know when your potential vendor risk may become a reality. So, it is always better to have backup plans in place. A disaster recovery plan isn't enough. Always keep current data back-ups and have alternative SaaS vendors ready just in case you need to make a quick replacement…
5. Be mindful of risks posed by your growing SaaS stack
As your organization continues to grow, so will your SaaS stack. Sometimes, even having a dedicated team to monitor and mitigate vendor risks may not be enough. During this time, it is better to leave risk mitigation operations to the experts and outsource the entire process altogether.
Build a risk-aware organization
Whether you are just implementing a VRM program or looking for ways to improve your existing process, the key to a successful vendor risk management strategy is awareness. Monitor your suppliers regularly and identify risk factors earlier in the game to ward off unpleasant surprises.
A key component of an ideal vendor risk management process is solid vendor relationship management. Your SaaS procurement team needs to work in tandem with your suppliers. As your SaaS stack continues to grow, there may come a point where your SaaS vendor management may become overwhelming."
Again, it bears repeating… It's imperative to make a list of EVERY vendor you do business with. It is often the vendors within your own community that pose the biggest threat. People or businesses that you've trusted for years. They are usually SMBs that think a cyber attack will never happen to them. But, if they don't have a multi-layered cyber security plan in place – including a backup and disaster recovery plan – a cyber attack WILL happen. It's just a matter of time.
So, ask yourself… Does your local bank, accounting firm, clinic, pharmacy, daycare center, etc. have a multilayered cyber security plan in place? If not, one single vendor could bring the entire business community to its knees.
At Adaptive Office Solutions, cybersecurity is our specialty. We keep cybercrimes at bay by using analysis, forensics, and reverse engineering to prevent malware attempts and patch vulnerability issues. By making an investment in multilayered cybersecurity, you can leverage our expertise to boost your defenses, mitigate risks, and protect your data with next-gen IT security solutions.
Every single device that connects to the internet poses a cyber security threat, including that innocent-looking smartwatch you're wearing. Adaptive's wide range of experience and certifications fills the gaps in your business's IT infrastructure and dramatically increases the effectiveness of your cybersecurity posture.
Using our proactive cybersecurity management, cutting-edge network security tools, and comprehensive business IT solutions you can lower your costs through systems that are running at their prime; creating greater efficiency and preventing data loss and costly downtime. With Adaptive Office Solutions by your side, we'll help you navigate the complexities of cybersecurity so you can achieve business success without worrying about online threats.
To schedule a Cyber Security Risk Review, call the Adaptive Office Solutions' hotline at 506-624-9480 or email us at helpdesk@adaptiveoffice.ca